Welcome to the Orientation & Mobility (O&M) Program
The San Francisco State University O&M Program is one of the oldest in the nation, founded in 1966. The Orientation and Mobility (O&M) Program at San Francisco State University is nationally approved by the Association for Education and Rehabilitation of the Blind and Visually Impaired (AER).
By offering one of the most comprehensive university programs in the country, SF State prepares O&M specialists to become successful professionals with the skills needed to work with people of any and all ages (infancy through adulthood) who have visual impairments, including those who have multiple disabilities and those from diverse cultural backgrounds. After graduation, specialists provide individualized training to students on skills that promote independent travel and productive lifestyles.
"Orientation and Mobility: A Basic Freedom"
-California Association of O&M Specialists (CAOMS)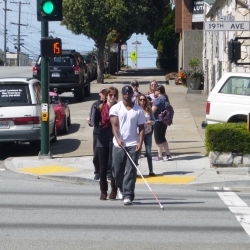 What Do O&M Specialists Do?
The ability to move independently, safely and with confidence through the environment is an essential element in human development and independence for all people. Orientation and Mobility (O&M) specialists teach children and adults who have visual impairments the specific orientation skills used to find one's way in the environment and the mobility skills needed to travel safely and efficiently at home, school, work, and in the community.
Instruction is usually provided one-on-one and can include skills such as how to use a long cane, the operation of low vision devices and electronic travel aids when appropriate, how to orient oneself to new environments, navigate public transportation systems, how to cross streets safely, and traveling by using hearing, remaining vision, and other senses.
In addition, O&M Specialists help children to develop fundamental skills such as fine and gross motor skills, concept development and problem solving skills. Adult clients can also benefit from an O&M specialist evaluating their current use of travel-related skills, discussing their future goals, and helping them select a program of instruction that will allow them to reach their greatest travel potential.
Employment Opportunities
Orientation and Mobility is a dynamic field and O&M specialists can be found working in many professional settings including: public schools, residential schools for students with visual impairments, state or private rehabilitation agencies, and VA Medical Centers. In addition, some O&M specialists choose to work on their own as independent contractors for schools and agencies.
Currently, there are excellent employment opportunities in the field and certified professionals are in high demand.